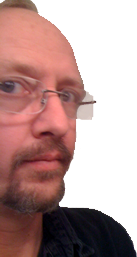 Mark A. Boyd
Finally, a recent photo of me – taken from my iPhone on February 23, 2008.
I'm the Mark Boyd who used to live in Shalimar, FL & graduated from Choctawhatchee High School in 1976. At this site you will find a brief history of my life. It shows some schools I've attended and jobs I've held. There is also a page where I describe some of my past hobbies. From the history page there is a sea story describing a rather eventful deployment on the USS Kinkaid (DD-965).
I have a few of my photographs uploaded with slide-show scripts on the photos page. I suppose I'll add to them from time to time. As always, you can check for updates on the What's New page.
If any of you are still looking for my old Director files, they're still available, though they haven't been updated since Director 7. You're probably better off visiting other Director sites that have been maintained through the years.